UK Blencowe Mini Reunion
Anna and I are inviting you to another Blencowe Mini reunion here at Tribes Hill, Walderton near Chichester PO18 9EF on Sunday, June 24th 2018.
We have a lot of Blencowe portraits, papers and memorabilia here which can be displayed, along with other papers that members might like to bring along. We would provide lunch and afternoon tea and show films of the larger reunions. All those who might be interested, please phone me on 023 9263 1066 or email peter @ blencowe.net
Anna and I welcome all who are within reach and would like to meet up with other members of the Blencowe Clan.
Peter Blencowe,
Walderton, UK
This provides an ideal opportunity of English members to enjoy the hospitality of Peter and Anna at their delightful Walderton home.
Members from other countries who happen to be in the country at that time would also be most welcome.
As you can see from this photo below of a previous gathering you'd get the opportunity of a photo with the famous portraits of Sir John and Lady Anne.
Please notify Peter of your intention to attend so that final arrangements can be notified in the May BFA newsletter. Anne
Below: Under the watchful gaze of Sir John & Lady Anne Blencowe in 2011.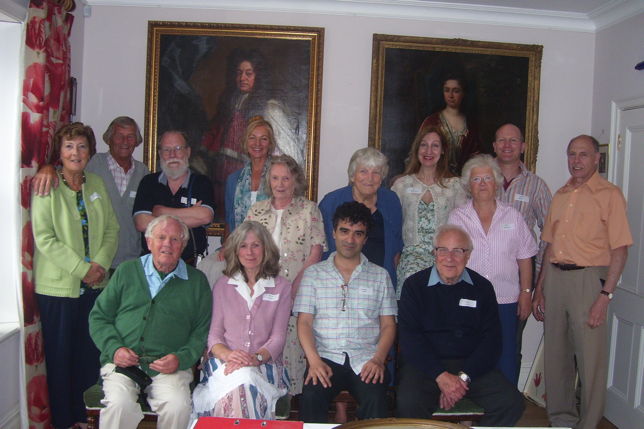 Standing: Tina and John Blencowe, Ron Currell, Catherine Blencowe Kish, Shirley Currell, Joan Martin, Val Blencowe, Anna Blencowe, Nicolas Deane, Dick Blencowe-Kish.
Seated: Peter Blencowe, Tricia Wales, Alberto Trindade, John Martin