Jeanne M. Blinco - 1931-2018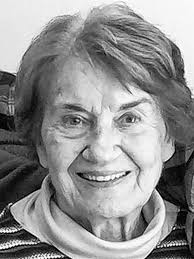 Jeanne Blinco, age 86 of Lewiston NY, died on June 15, 2018 in Lewiston, after a brief illness.
Jeanne was born July 31, 1931 in Niagara Falls, NY, the daughter of the late Edward and Wanda (Pieta) Novak. She married Stewart P. Blinco in 1954 and they have resided in Lewiston since 1960.
She is survived by her husband Stewart and three sons, Edward (Kathleen McMillen) of Charleston, SC, Thomas (Lynne Shannon) of Canton, OH, and James of Lewiston; four grandchildren, Stephanie, Todd, Katherine and Andrew four great grandchildren; and a sister, Edith Mashinter of New Jersey.
Jeanne is of course Ed's mother and with Kathy also losing her mother recently, running our reunion has not been easy for them, especially as they live a distance from the family and the reunion venue. They have our condolences.